My White 1990 Caravelle Syncro
03-12-2016, 11:04 PM
(This post was last modified: 03-12-2016 11:12 PM by Bruce.)
Bruce
T3 Hoarder


Posts: 229
Joined: Jun 2014
Reputation: 1
RE: My White 1990 Caravelle Syncro
My Syncro is a caravelle but has a cluster with a clock.
I don't know but I'm guessing it is not original because there is no rev counter and the mileage is then a bit of a mystery.
So I decided to get a new cluster but couldn't find one in good nick so I bought three broken clusters and am putting together a new cluster with the original looking rev counter and the odometer at zero.
It was quite a challenge to take apart the odometer.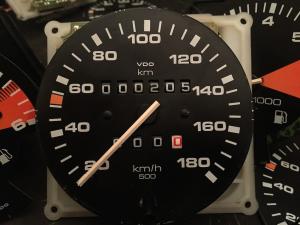 And this little badge arrived from Capervanculture.
Quite cool, now I have to figure out how to attach it.
---
Caravelle Syncro 2.3 Andreno 1990
Caravelle Syncro 2.1 Stock Standard
Volksiebus 1.8 1994
Microbus 2.3i 2002
User(s) browsing this thread: 1 Guest(s)