My White 1990 Caravelle Syncro
05-11-2015, 09:40 PM
(This post was last modified: 05-11-2015 09:56 PM by Bruce.)
Bruce
T3 Hoarder


Posts: 229
Joined: Jun 2014
Reputation: 1
RE: My White 1990 Caravelle Syncro
Gearbox has been assembled after a longish wait for bearings and seals and new fourth gear etc...
New linkage parts installed -Topram
Got all new C.V. joints, I was told I couldn't get the Syncro front outers but wasn't a problem, hope they are the right thing.
Went for aftermarket Porshe 930's at the back, almost the same price as the aftermarket originals.
Hopefully they will help with my articulation issues.
Couldn't get new Loebro's.
Might need coned boots on the outside but don't have any at the moment.
Spent R 7 000 on 8 new joints - brand is GSP.
Kept the front to original spec but aftermarket.
Also put a new water bottle in my 2.3 2WD Microbus this evening.
Needed it - cracked, leaking and filthy.
Time to get the Karcher out I think.
Got this one at Goldwagen, we'll see how long I'll get out of it, 13 years out of the OE one.
With the Syncro in the shop I had to go camping with my 1.8, was amazingly good off road.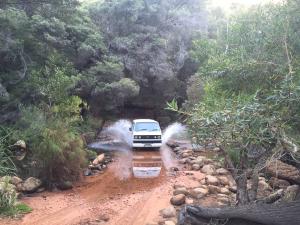 ---
Caravelle Syncro 2.3 Andreno 1990
Caravelle Syncro 2.1 Stock Standard
Volksiebus 1.8 1994
Microbus 2.3i 2002
User(s) browsing this thread: 1 Guest(s)