The Graham's camper conversion
03-31-2016, 08:21 AM
syncromad
Moderator


Posts: 3,404
Joined: May 2011
Reputation: 2
RE: The Graham's camper conversion
looking good
---
I may be a mechanic, but i can't fix stupid
Bad planning on your part does not make your issue an crisis to me
Bad workmanship by other garages does not entiltle you to better rates at me
Syncro, syncro , syncro and more syncro, this is the syncro way of life
11-02-2016, 10:45 PM
nickgraham
Visco Coupling


Posts: 91
Joined: Jun 2015
Reputation: 1
RE: The Graham's camper conversion
Can't believe it has been 7 months since I last posted here. Lots has happened. Have also been on some epic trips in between (maybe a trip report or two to follow). Let's see if I can remember what I've done:
Fitted the auxiliary water and fuel tanks (thanks again, Ian).
Did a fair amount of work on the cabinets. Now have drawers and roller doors on 2 cupboards, but still not finished.
After my son nearly set the camper on fire by shorting the original lighting wiring, I rewired all the lights to the auxiliary battery and fitted some nice round, flat LED lights front and back (from Gelmar). I also did quite a bit of work on the electrics. I now have a 220v circuit fed from an external caravan port. It feeds the 220v plugs and the battery charger (wired in). The 12v circuit is all fed of the auxiliary batteries, with switches for the fridge and water pump and 2 x cigarette lighters.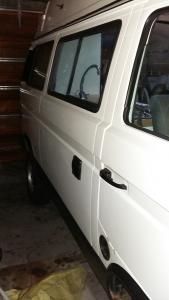 Hopefully won't leave it another 7 months before another update.
---
1989 2.0i Syncro Camper (Gogo)
11-03-2016, 09:12 AM
syncromad
Moderator


Posts: 3,404
Joined: May 2011
Reputation: 2
RE: The Graham's camper conversion
Looks great
---
I may be a mechanic, but i can't fix stupid
Bad planning on your part does not make your issue an crisis to me
Bad workmanship by other garages does not entiltle you to better rates at me
Syncro, syncro , syncro and more syncro, this is the syncro way of life
11-03-2016, 04:24 PM
Camperholic
Visco Coupling


Posts: 113
Joined: Feb 2016
Reputation: 0
RE: The Graham's camper conversion
Looks like there is so much space in there for some reason. Really neat and impressive.
01-09-2018, 09:25 PM
willemsmit
Prop Shaft


Posts: 32
Joined: Jan 2013
Reputation: 0
The Graham's camper conversion
Well done!


Sent from my iPad using Tapatalk
User(s) browsing this thread: 1 Guest(s)