Apollo Apterra All Terrain Tyre Review
10-12-2018, 08:13 PM
(This post was last modified: 10-12-2018 09:46 PM by Nico.)
Nico
Rear Locker


Posts: 375
Joined: May 2011
Reputation: 0
Apollo Apterra All Terrain Tyre Review
So it's been about a year since I was finally able to fit my desired tyre size to my 2-wheel drive VW Transporter double cab - a 225/70 R15 100S. My choice was extremely limited, so I decided to take a chance on Apollo Apterra All Terrain tyres.
So what did they claim?
Excellent off-road Performance
Center to shoulder cross grooves opening
Wider shoulder grooves
Suitable for mud, slush, sand and gravel terrain
Great Control
Stiffer shoulder blocks with continuous skew shaped centre rib
Fast and precise steering
Superb stability during cornering on all terrains
Improved durability with long life
Reinforced construction with unique tread design & cut, chip, wear resistant material
Tackle rocks and sharp stones effortlessly
Their EU rating is as follows
Lifespan 4/5 Fuel Efficiency 3/5 Comfort 3/5 Braking 3/5
The tyre is covered by their standard 5 year manufacturer warranty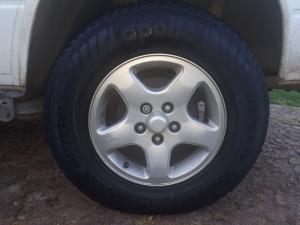 I had tried Continental World Contacts in a 215/80 R15 but found them too tall. With my Caravelle 2.6i 5-speed gearbox, it just wasn't happy turning this diameter tyre. I then tried Michelin Agilis commercial tyres in a 225/70 R15. However, both these tyres had a 112 load index which is 1,120kg per tyre. Never carrying anything near that weight, I found the ride unbearable, so they all had to go. Fortunately an ad on Gumtree found a willing buyer, although I did lose money. I still couldn't get suitable 225/70 R15s, so for a while I went over to General Grabber 215/75 R15 100S All Terrains. The 100 load index - 800kg per tyre - made a huge difference in the ride comfort and I was pretty happy with them, but still hankered after 225s. When Apollo Tyres re-introduced their Hawkz All Terrain tyre as the Apterra last year, I saw opportunity to finally get the size I was after with the prerequisite 100 load index and the S speed rating of 180km/h was adequate as the vehicle will only do 160. Initially I bought just two to try and once I had confirmed there were no issues, I ordered another three, one for the spare. In the meantime I advertised the General Grabbers on this forum and a Syncro owner bought them.
So I've had the Apollo Apterras long enough to make a fair appraisal. It's been about 10 months to a year and about 10,000km. For most of my life I have been something of tyre snob, only buying top brand names like Michelin, Pirelli, Yokohama, Bridgestone and Goodyear, until I came to the conclusion that they don't all make excellent tyres and some are just plain terrible, Pirellis especially so. An obscure tyre made in India certainly gave me something to be concerned about, but my fears were soon allayed.
Firstly I found the wider Apterras to look better on a vehicle the size of the T3 bus. I also appreciated the fact that these tyres have a rim flange protection bead. Thankfully they are free of any vibration, they do not squeal going around corners, the ride is very acceptable compared to those bone-jarring tyres with the 112 load index. It truly is amazing what a difference it makes. Naturally all terrain tyres, by their very nature, can never be considered quiet, so how do the Apterras behave in the noise department? I would say up to 100km/h they are not noisy. At 120km/h they do start to sing noticeably, but it's not adversely annoying. I have had no issues with grip in the wet or dry. With more rubber on the road I have never had them lock up under heavy braking. Would I recommend them? Yes I would. Would I buy them again? I have no reason not to. Should a General Grabber or some-such tyre come out in this size, then I might be tempted to buy them next time, but for now, I would say I am a very satisfied Apollo Apterra customer.
10-17-2018, 09:54 AM
Camperholic
Visco Coupling


Posts: 113
Joined: Feb 2016
Reputation: 0
RE: Apollo Apterra All Terrain Tyre Review
Nice review.
User(s) browsing this thread: 1 Guest(s)